A radical new
MIDI controller
Kordbot helps you write better chord progressions. Instantly master thousands of chords in over fifty scales and you don't need to know music theory to use it.
Write chord progressions quickly using the 12 memory pads and use them to try out different progressions and inversions. When you're happy, save the chord set for future use via the built-in SD card slot.

KordBot also helps you learn by showing you how to play chords and scales via the light-up keys. It will even suggest the next chord for your chord progression. Whether you make music on your phone or tablet, in a studio full of hardware or attached directly to your favorite DAW, KordBot has you covered thanks to MIDI, USB and bluetooth connectivity.
What our customers
say about the
KordBot
Just received my Kordbot recently, and I just wanted to write and congratulate you on a tremendous product. Thank you for taking the time to develop it and produce it yourself. There's a great deal of love and imagination evident, especially in things like the strum mode. I know so much of the feedback indie developer's get is complaining, but this is absolutely going to revolutionize my workflow, especially while traveling and away from a full-size piano.
Total game-changer MIDI controller. The Kordbot is like a harmonic calculator, instantly number-crunching all of the chords you can imagine to output as strums, arpeggios and huge stacked chords. Not finding what you need? Build yr own chords and scales. Save for quick access to twelve memory pads.
I absolutely love it! Fantastic tool to build and test chord progressions and arpeggios. The touch strip is a an awesome feature. It has exceeded my expectations and we are just at the beginning of the software developement… It's already a centerpiece of my setup!
The combination of chord memory slots, arpeggiator, and strum pad is pretty amazing. Kordbot has become an indispensable writing tool, and is a lot of fun as well.
For us, the S2400 is a passion project – to recreate the sound of one of the world's most iconic sampling drum machines, and bring it up-to-date with modern features. The result is the very best of old school and new school technology coming together.

Brad has been obsessed with drum machines for many years – owning, repairing, restoring, modifying countless makes and models (see his HR-16 mods on youtube).

Staying true to form in both sonic characteristics and design aesthetic were the main drivers in the realisation of this project, while bringing the hardware into the 21st Century and keeping the same 'instant gratification' and intuitiveness of its spiritual pre-predecessor at heart.
Check out the full feature set below
by rolling over the Hotspots

Din/USB/Bluetoth MIDI in and out
Finger ribbon for chord strumming
Full Color TFT LCD Screen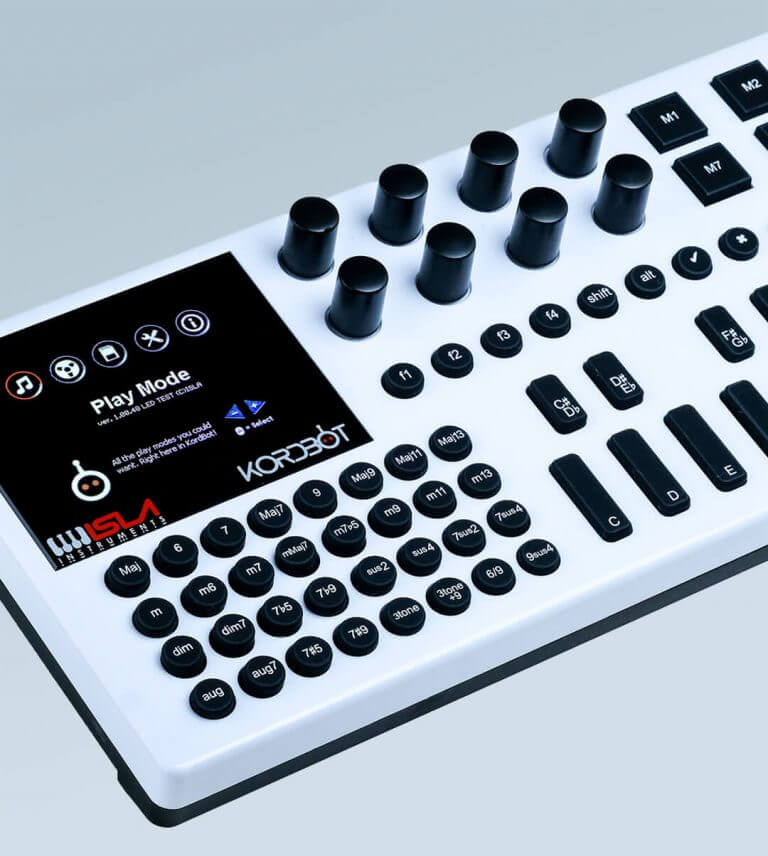 MIDI controller with two-octave, lit keyboard
8″ Full Colour TFT LCD Screen
32 chord-modifier buttons, 8 push encoders
12 chord memory pads and ribbon controller
Select from 588 standard and exotic scales
5 Pin MIDI In/Out, USB MIDI, Bluetooth MIDI
SD-card slot, editable MIDI assignments
12 Zone touch sensitive 'Ribbon' for chord strumming and MIDI CC control.
Flexible arpeggiator and chord-strum feature
Specifications
| | |
| --- | --- |
| Type | Standard White, Crystal Case, Black |